Crispy fresh fig tart with almond cream frosting! This recipe combines two flavors that go great together – fresh figs and almonds. The perfect dessert to help you transition into fall baking!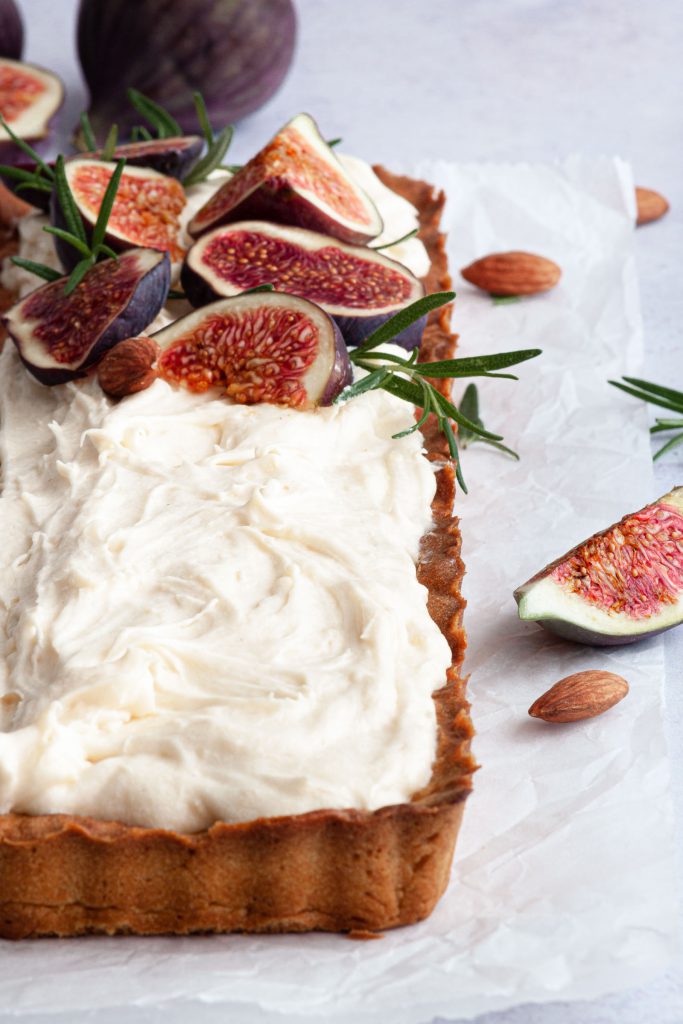 What Do Figs Go Well With?
Figs have a delicate, gently sweet flavor which makes them a perfect companion for a variety of different ingredients but their light flavor best matches nuts, cheeses and herbs. Here are some ideas of what to pair figs with:
cheeseboards – this is the perfect way of highlighting their flavor and matching them with cheeses that are much more distinct;
nuts – e.g. almonds, pecan nuts, pine nuts, peanuts. You can make the most of this flavor combination in cakes but a great idea is also combining these ingredients in an oatmeal, on waffles or pancakes;
herbs – especially rosemary and thyme. These herbs have an aroma which is very recognizable and that's why they taste great with figs;
salads – adding fresh figs to a salad is the best way of combining all of these flavors together. Let your creativity flow here, reach for some salad leaves, add your favorite cheese type and top everything with nuts and herbs.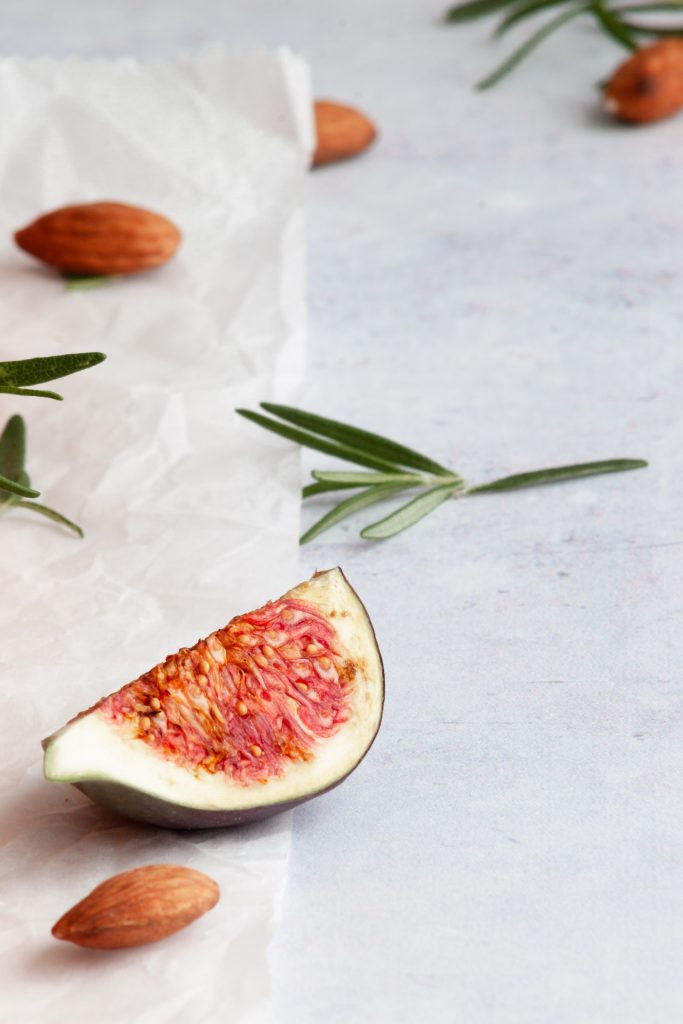 How to Eat Fresh Figs
Figs can be eaten raw, with their skin on. Slice them into thin slices and have with a peanut butter toast, cut them in four and eat straight up or cut in chunks to add to your favorite salad. If you find the skin unappetizing, you can also have figs peeled. Some ideas of what to serve fresh figs with:
oatmeal – rolled oats, coconut milk, honey, chunks of fresh fig and a few pecan nuts;
fall salad – a handful of rocket leaves, baked sweet potato, avocado, pecan nuts or walnuts, lemon+mustard+honey dressing, chunks of fresh fig;
breakfast pancakes – use this lemon goat cheese pancakes recipe, top with chunks of fresh figs and pour over with lemon & honey syrup.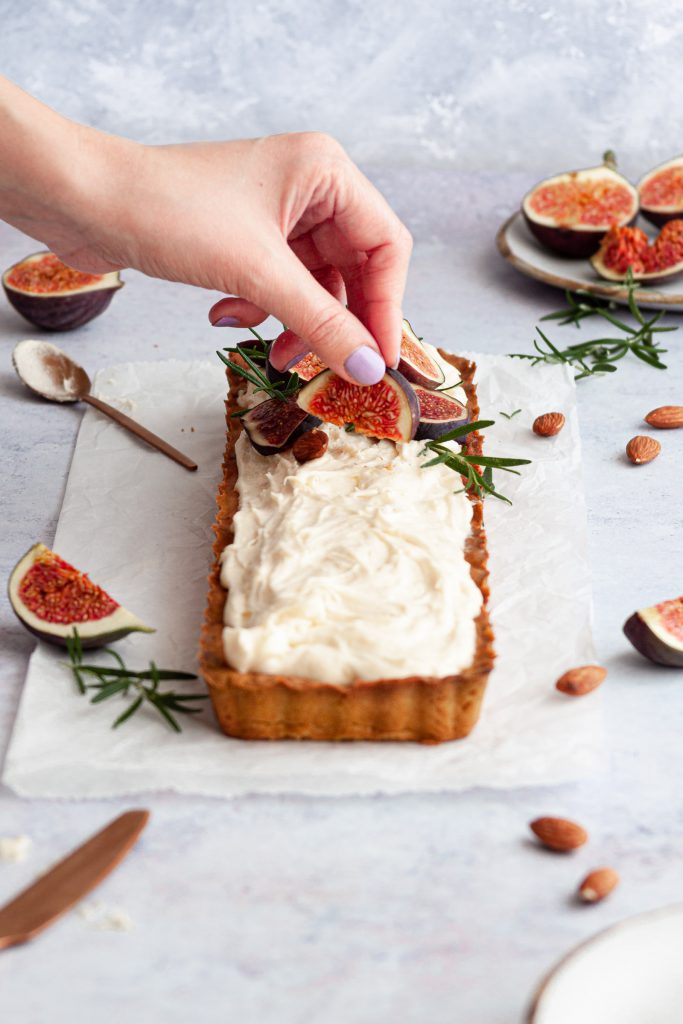 Ingredients in This Fig Tart Recipe
Flour – use all purpose, non-rising flour.
Butter – it's the ingredient that makes or breaks the flavor of this cake. Make sure to use a good quality butter (especially for the almond cream!).
Sugar – use icing sugar for the tart as the crust won't be in the oven for too long and granulated sugar won't have enough time to melt. You can use regular, granulated white sugar for the almond cream.
Eggs – make sure they are chilled for the crust and at room temperature for the cream.
Almond Milk – helps emphasize the flavor of the cream.
Potato Starch – will make the almond cream set to a thick consistency.
Almond Extract – it'll add that special flavor to the cream, making it a perfect companion for your garnish of…
Fresh Figs – the hero of this cake!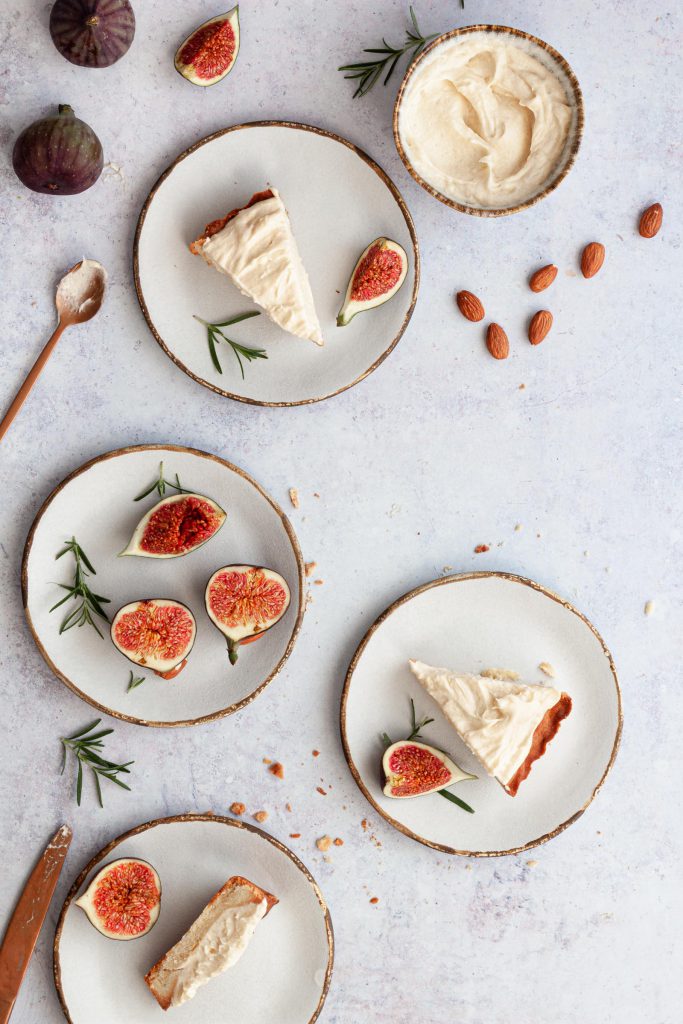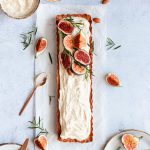 Print Recipe
Fresh Fig Tart with Almond Cream Frosting
Crispy fresh fig tart with almond cream frosting! This recipe combines two flavors that go great together – fresh figs and almonds. The perfect dessert to help you transition into fall baking!
Ingredients
For the Crust
180

g

flour

100

g

butter

(chilled)

60

g

icing sugar

A pinch of salt

1

egg
For the Almond Cream
400

ml

almond milk

70

g

granulated sugar

35

g

potato starch

20

g

all purpose flour

2

egg yolks

½

tsp

almond extract

150

g

unsalted butter

(at room temperature)

4-6

fresh figs

(to garnish)
Instructions
For the Crust
Sift flour into a large bowl, add chilled butter cut into cubes, sugar and a pinch of salt. Mix gently together until streusel starts to form, then add an egg. Knead together just until combine. Shape into a bowl, wrap in a cling film and refrigerate for 30 minutes.

Prepare a 36cm x 11cm (14inch x 4inch) or a 28 cm (11inch) diameter deep fluted tart tin. Lightly grease the sides, set aside. Preheat the oven to 180°C (356F).

At the 30 minute mark, take the crust dough out of the fridge, place between 2 sheets of baking paper and roll so that it fits to line the bottom and edges of the tart tin. Line the tin with the crust dough and cut off any excess dough. Place a sheet of baking paper on top of the crust and add pie weights. Bake for 15 minutes, then carefully take the parchment paper with pie weights off the crust and bake for 10 more minutes, until crust turns golden.
For the Almond Cream
In a small bowl mix 100 ml of almond milk with potato starch, all purpose flour, egg yolks and almond extract. In a small pot, bring to boil 300 ml of almond milk mixed with sugar. Once it starts to boil, decrease the heat to small and constantly stirring add the remaining almond milk mixture. Keep stirring until a thick pudding forms, then set aside and allow it to cool.

Fit stand mixer with paddle attachment. Place butter in a bowl of stand mixer and mix on low speed, slowly increasing to medium until light and fluffy (approx. 10 minutes). Decrease to low speed and start adding cold almond pudding, one tablespoon at a time mixing well after each spoon. At the end, mix on low speed for 30 more seconds to make sure the cream is well incporporated.

Take the tart out of the tin, layer with almond cream. Cut fresh figs into chunks or slices and garnish the tart. Serve and enjoy!
Did you make this recipe?
Tag @foods_by_marta on Instagram and hastag #foodsbymarta.