These easy to make and lusciously delicate cinnamon sugar cookies are the perfect option for some last minute Halloween baking or an autumn treat for a cozy evening at home.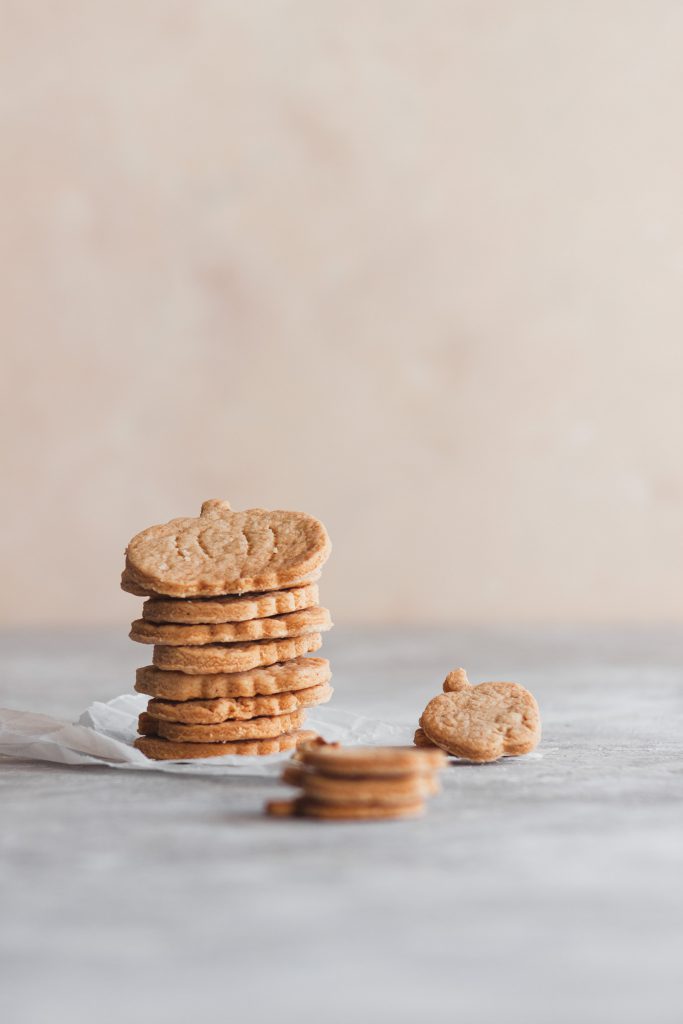 How to Make Cinnamon Sugar Cookies from Scratch?
This is one of my favorite cookies recipes, just because it's so quick to make but also because the cookies end up being very soft and delicate. The important part of this recipe is letting the dough rest in the fridge before you start making the cookies. But do not fret if you're in a rush – I'm sharing a few tips in the 'Do I Need to Let the Dough Rest?' paragraph below!
We want to make the cookies are soft and almost fall apart as we eat them, so to achieve this:
use cold ingredients i.e. butter and egg;
make sure to use icing sugar – it melts easier and it has a lighter consistency, so it won't make the dough too heavy;

cream

the butter with icing sugar – you can either do this using a paddle attachment with your stand mixer or using a hand mixer (although if you have a choice, go for the stand mixer);
try to minimize the amount of time your hands are in contact with the dough when you knead it – this will help make the cookies more delicate.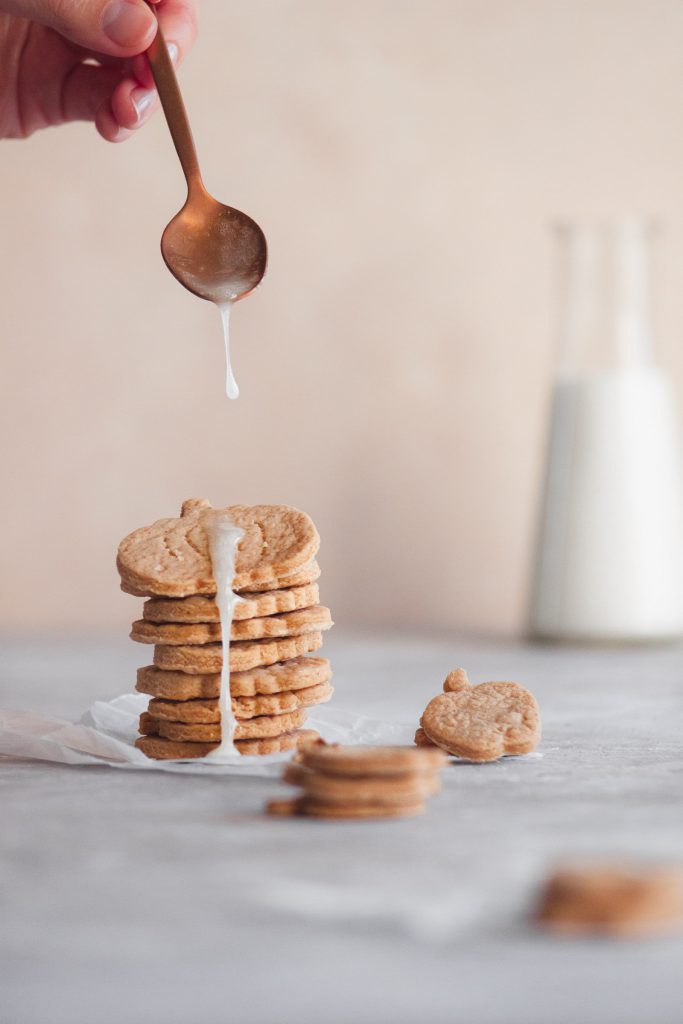 Do I Need to Let the Dough Rest?
Once you've combined all the ingredients together and made the dough, you should let it rest in the fridge for approx. 30 minutes. If you're really short on time and you know you won't be able to find the time to chill the dough, focus on these things instead:
use

cold

ingredients;
put the dough in the freezer for 5-10 minutes, while you're preparing the baking tray, cleaning up bowls and preparing your working space to roll the dough and cut the cookies;
after a few minutes in the freezer, let the dough rest on the counter for 5 more minutes as this will make it easier to roll.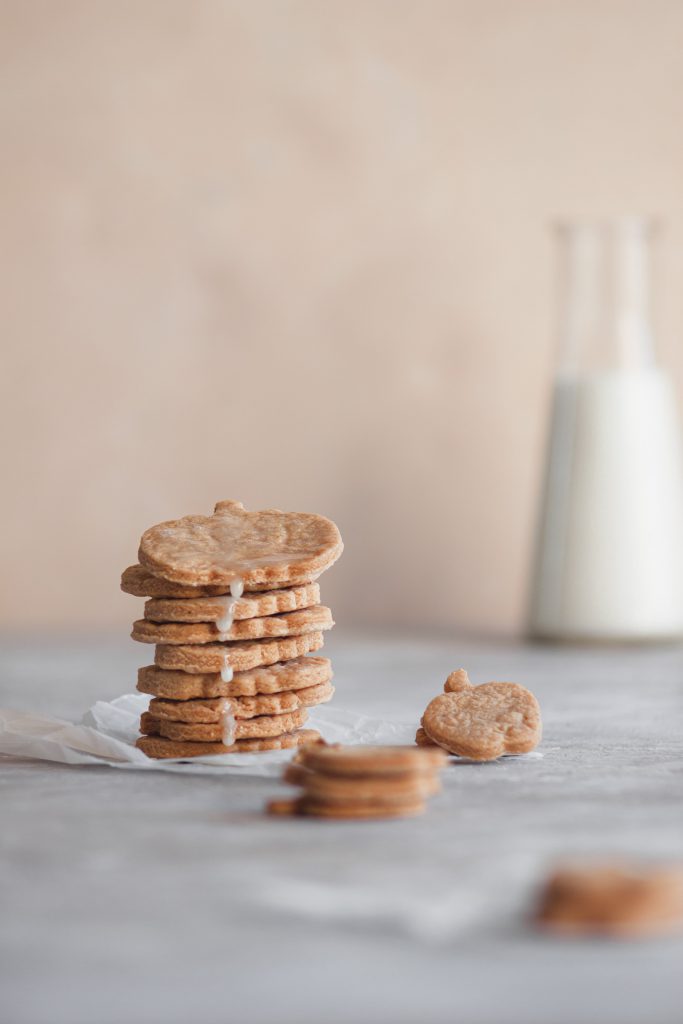 Making Cinnamon Sugar Cookies Vegan
If, like me, you have friends or family who are vegan but you'd like them to still enjoy the cookies you can make these easy adjustments to make the cookies vegan:
swap butter for plant-based baking margarine. This will change the flavor of the cookies slightly, but the consistency will remain very similar. If you're using baking margarine,

sub in 1:1 proportion.

use plant-based yogurt instead of an egg. Add 1-2 teaspoons of plan based yogurt (e.g. coconut), if you find that the dough isn't sticking well enough, add 1 more teaspoon. Make sure the yogurt is cold.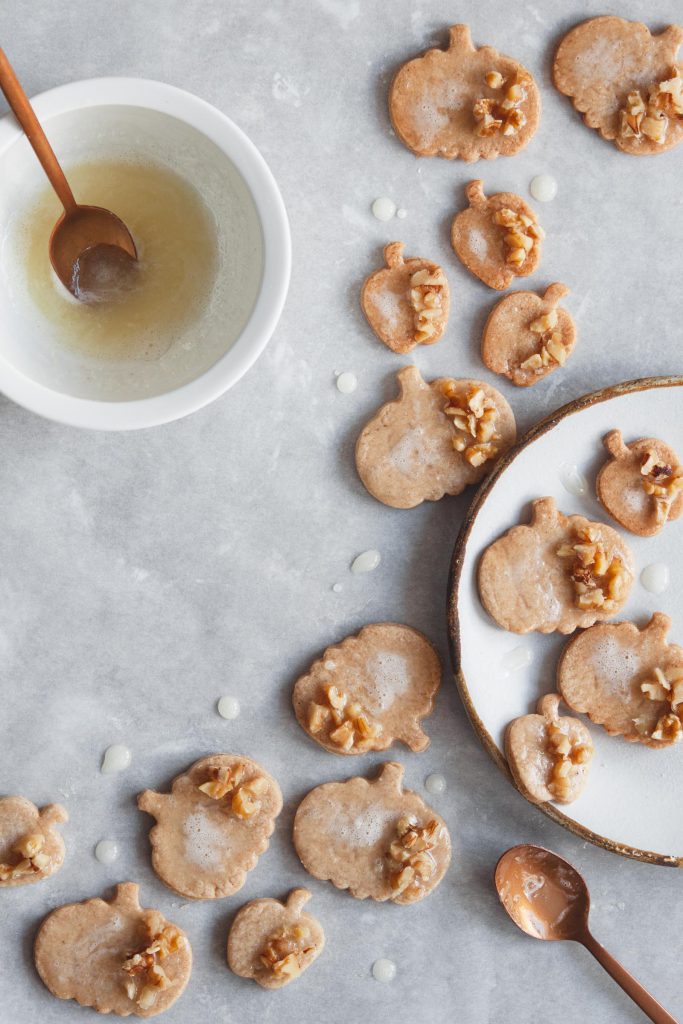 How to Decorate the Cookies?
These cookies are a perfect base for decorating them. Let your imagination loose and pick your favorite cookie topping.
I love making these cookies with lemon juice icing, they are sweet enough on their own so the sour & sweet lemon combo adds a great twist. Top them with walnuts, hazelnuts, chocolate sprinkle or sour toppings such as dried cranberries or freeze-dried raspberries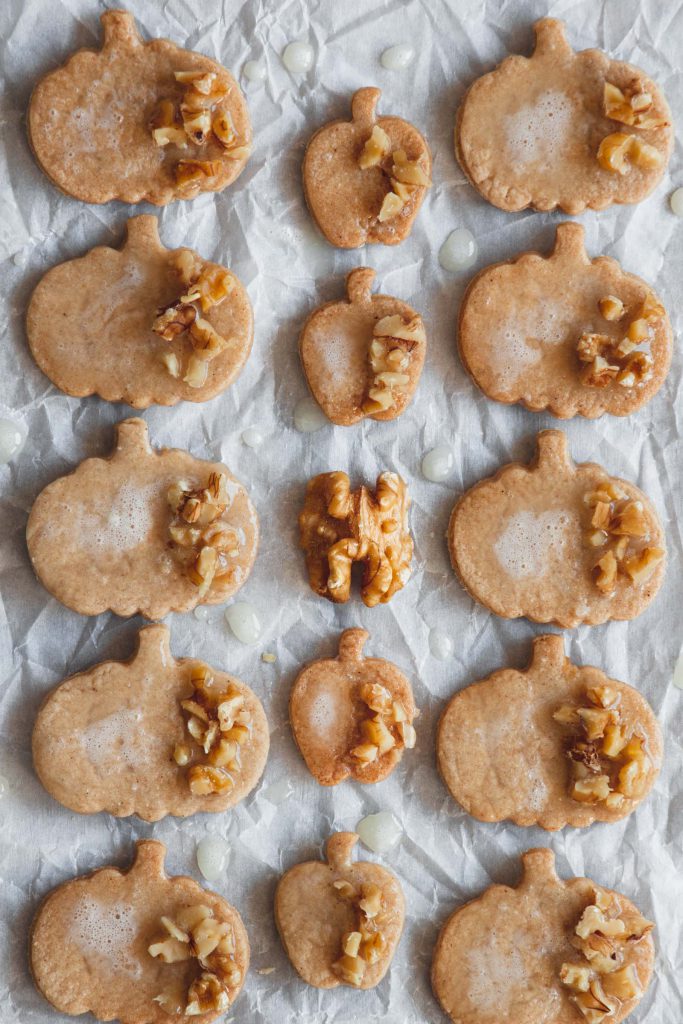 How Long Can the Cookies Be Stored?
The cookies on their own, without any toppings, can be stored for at least 1 week after baking. If you've decorated them with icing and toppings (especially dried fruit) you should eat them within approx. 3 days although that shouldn't be too much of a problem!
Can I Freeze the Dough?
Absolutely YES. This dough freezes perfectly well, you can keep it frozen for a few weeks. When you're ready to make the cookies, take the dough out for around 2-3 hours to let it come to room temperature.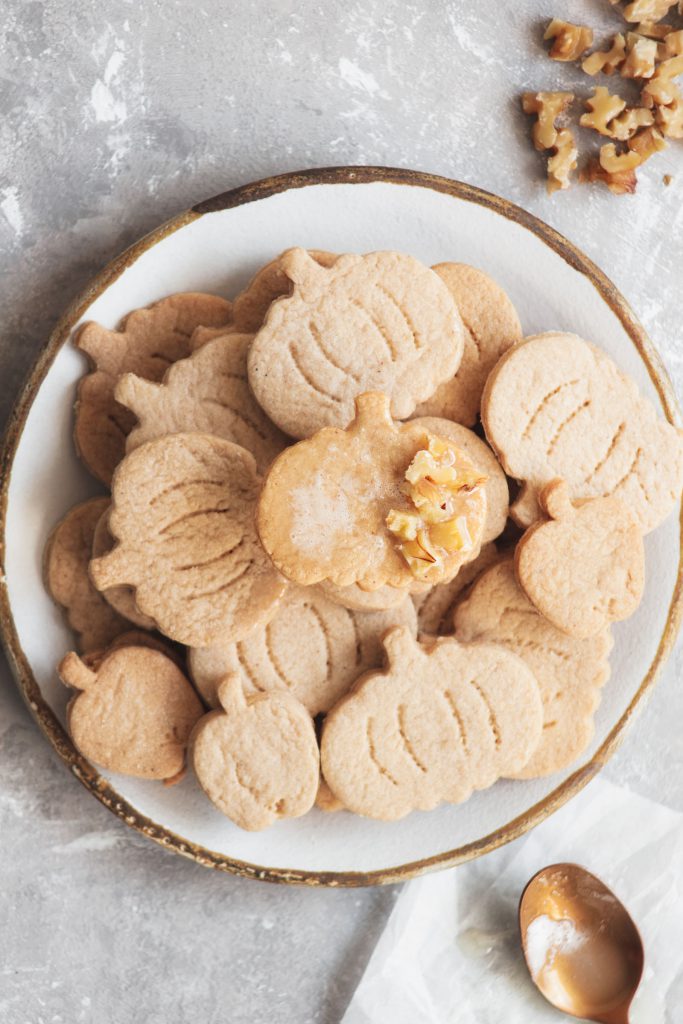 Cinnamon Sugar Cookies with Lemon Juice Icing
These easy to make and lusciously delicate cinnamon sugar cookies are the perfect option for some last minute Halloween baking or an autumn treat for a cozy evening at home.
Ingredients
For the Cookies
150

g

butter

(cold)

55

g

icing sugar

275

g

all-purpose flour

70

g

potato starch

1

egg

(large, cold)

1

tsp

cinnamon

¼

tsp

allspice

½

tsp

ground ginger
For the Icing
400

g

icing sugar

2

tbsp

lemon juice
Instructions
For the Cookies
Put butter and powdered sugar in a medium-sized bowl. Cream for 8 minutes (this step can also be done using a stand mixer). Add the egg and knead until the ingredients are combined.

In a smaller bowl, sift both flours, cinnamon and spices together, add to the butter and knead for 2-3 minutes. Divide into two balls, wrap in foil and refrigerate for 30 minutes. Take it out of the refrigerator and wait 15 minutes for the dough to come to room temperature (this will make it easier to roll out).

After this time, heat the oven to 160°C (top and bottom, no fan setting). Line an oven sized baking tray with baking paper.

Roll out one ball to a thickness of approx. 3 mm and cut out cookies. Place on a baking tray and bake for 15 minutes, until the cookies start to turn golden. Repeat with the remaining dough.

Cool the cookies and decorate with icing or selected toppings as desired.
For the Icing
Sift the powdered sugar into a medium bowl. Add two tablespoons of lemon juice and mix it vigorously with a whisk. Pour over the cookies and add the selected toppings on top, before the icing sets.
Did you make this recipe?
Tag @foods_by_marta on Instagram and hastag #foodsbymarta.