As aromatic as the color suggests and as delicate as you can imagine. Trust me, this easy orange upside-down cake is the recipe that you will need to test this weekend! It's got a very gentle, orange taste that goes perfectly with the orange/yellow color created by turmeric in this cake. What's more, oranges that have baked into the cake make for a great first impression anytime you serve it to your family or friends!
How to Make Upside-Down Cake
When you're preparing loaf cake from this recipe, make sure that you:
line loaf tin thoroughly with parchment paper – this will help you make sure that the cake comes out smoothly and easily. It's really important because you will be flipping the cake once it has cooled down and it will be very difficult to do, if you don't line the loaf tin properly.
blanch oranges with boiling hot water – that's the best way to make sure that orange skin is cleaned properly. You'll be zesting the orange and cutting slices of unpeeled orange that will be placed in the cake so this step is very important.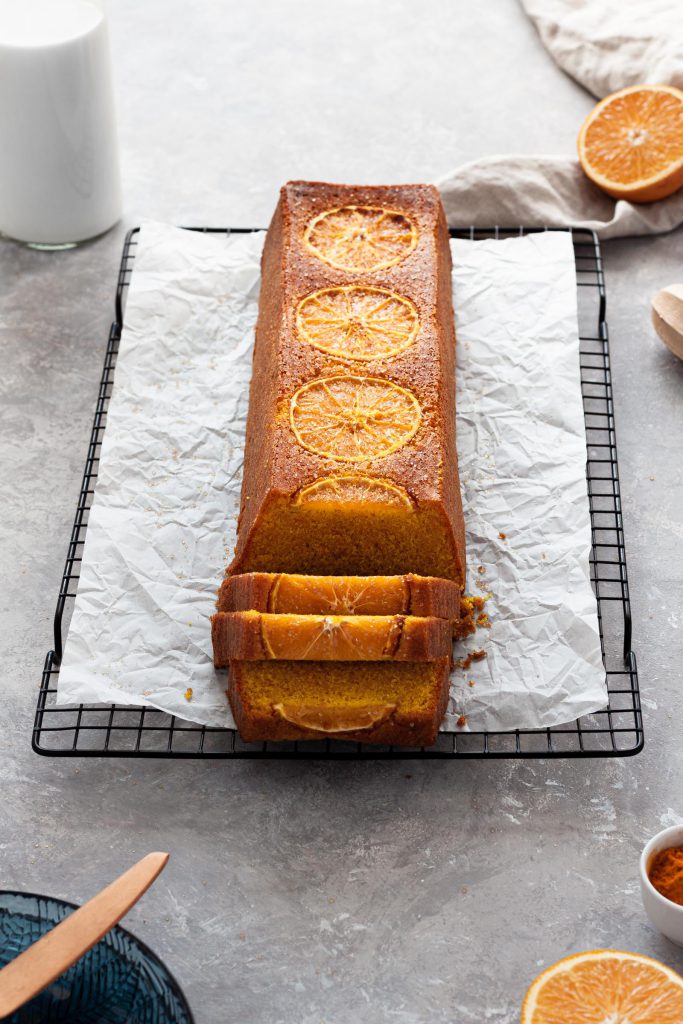 Ingredients in Orange Upside-Down Cake
Oranges – will help add a wonderful flavor to the cake which corresponds perfectly with the color of this cake.
Butter – to make the cake creamy and rich in flavor.
Sugar – you can use white granulated sugar or sub for brown sugar 1:1 proportion.
Eggs – will help keep the cake together.
Flour – this recipe uses AP flour. Although I haven't tested this recipes with a different type of flour, you can also substitute for other types of flour making sure it's in the correct proportion.
Baking powder – to help the cake raise.
Turmeric – will add a nice, yellowy-orange color to this cake.
A pinch of salt.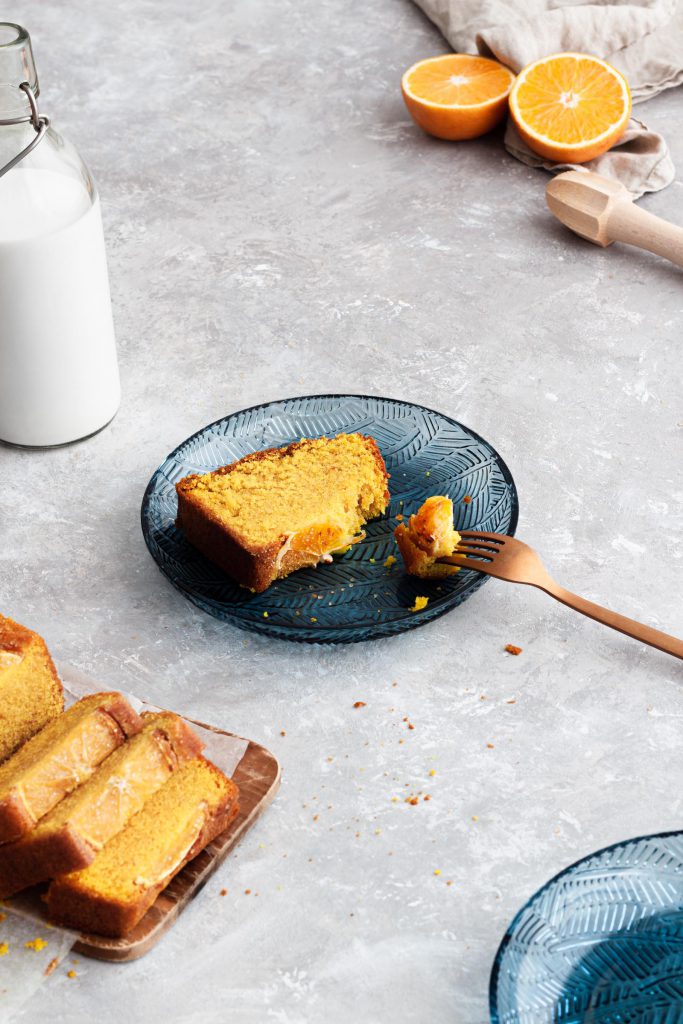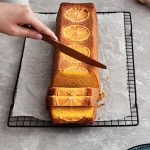 Print Recipe
The Easiest Orange Upside-Down Cake
As aromatic as the color suggests and as delicate as you can imagine. Trust me, this easy orange upside-down cake is the recipe that you will need to test this weekend!
Ingredients
2

oranges

200

g

butter

(at room temperature)

200

g

white granulated sugar

4

eggs

(large)

240

g

all-purpose flour

2

tbsp

baking powder

1 ½

tbsp

turmeric

A pinch of salt
Instructions
Prepare a 30cm x 12cm (11inch x 5inch) loaf tin. Grease the bottom and sides and line with parchment paper. Preheat the oven to 160°C (320F) without fan. Wash oranges thoroughly and blanch with boiling hot water. Zest and juice 1 orange, cut the 2nd orange into slices and set aside.

Fit stand mixer with paddle attachment. Mix butter with sugar until soft and fluffy (approx. 5-7 minutes).

On low mixer speed Start adding eggs, one at a time mixing well after each egg for 1 minute. Add orange zest and mix everything on low speed for 30 seconds.

In a separate bowl mix together flour, baking powder, turmeric and salt. Add to the cake batter and mix on low speed increasing to medium. Now add orange juice and gently fold everything together until incorporates.

Layer orange slices at the bottom of the loaf pan and gently pour cake batter on top of them. Insert the cake on a medium rack and bake the cake for approx. 50 minutes when a toothpick inserted inside comes out dry.

Once time has elapsed take the cake out of the oven and let it cool completely. To take the cake out place a plate or a cake stand on top of the loaf tin and holding it firmly, with a quick and sturdy motion, flip the cake tin upside-down. Take off the parchment paper, slice in 16 pieces and enjoy!
Did you make this recipe?
Tag @foods_by_marta on Instagram and hastag #foodsbymarta.