A quick chocolate and hazelnut cake with a decadent and rich ganache frosting. It's a perfect recipe for weekend baking, home entertaining or as a companion to a family board game night!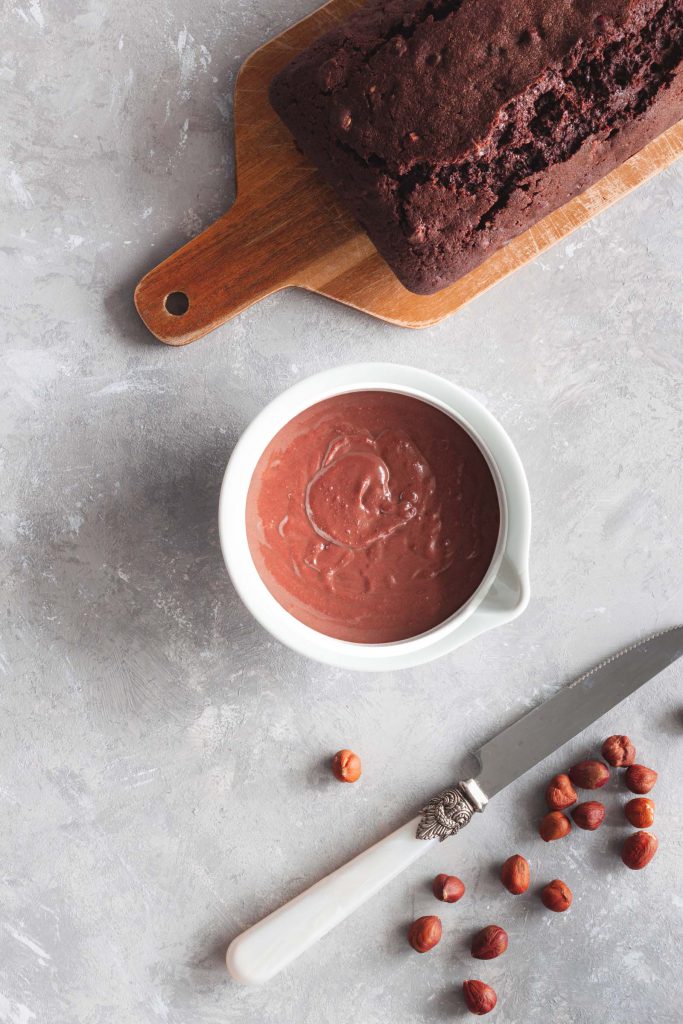 How to Make Chocolate and Hazelnut Cake
The method is planned so that it doesn't take much time and effort to make the cake. Here are three key tips and tricks to focus on when making the cake:
Choose the right cake tin. If you want the serving size to be bigger than in the original recipe below, double the ingredients quantities but make sure to leave baking time as is.
Use high quality ingredients, but choose them wisely. You don't have to splurge on the highest quality of coffee extract or the most expensive butter type. Simply make sure that, you pick the tried and tested one that you love most. Baking should be all about pleasure and not about having to worry that we're spending too much!
Always check if the cake is cooked inside before you take it out of the oven. I know, it sounds like such an obvious tip but every oven truly is different. Sometimes 5 more minutes in the oven can really make a difference! Just before you take the cake out, check if it's ready by poking a knife or a toothpick inside. If it comes out dry then you're good to take the cake out.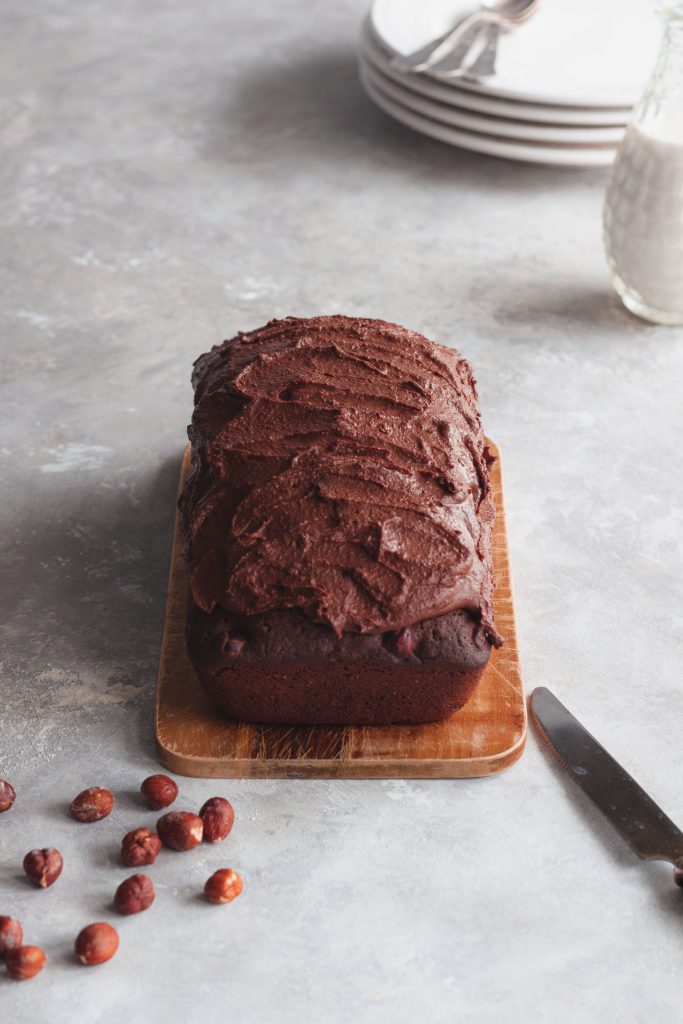 How to Make The Cake Light and Fluffy
There are XXX things that will help you make sure this chocolate & hazelnut dessert is a dreamy and a fluffy one:
patiently beating the eggs until fluffy – the longer you beat the eggs, the more air you let in and the lighter the cake will be once it's baked.
adding the sugar in gradually – try not to add all sugar at a time. If you add it gradually, one tablespoon at a time, you won't add too much weight to the gentle and light egg mix. This will help make sure the cake rises nicely.

gently

combining flour mixture with beaten eggs – it's best if you do it using a spatula or a wooden spoon. By doing so, you won't brake the eggs' structure too much.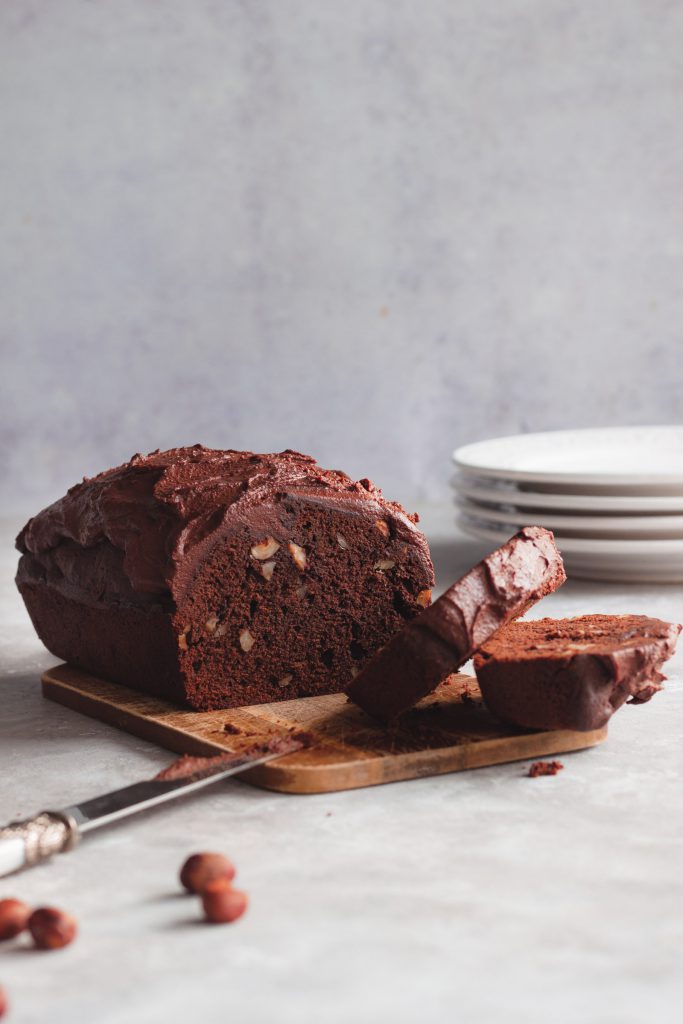 Ingredients in This Chocolate and Hazelnut Dessert
These ingredients will make for the delicious and fluffy chocolate and hazelnut dessert:
eggs;
sugar;
butter;
milk;
all-purpose flour;
cocoa;
baking powder;
coffee & vanilla extracts;
a pinch of salt;
hazelnuts; and
dark chocolate.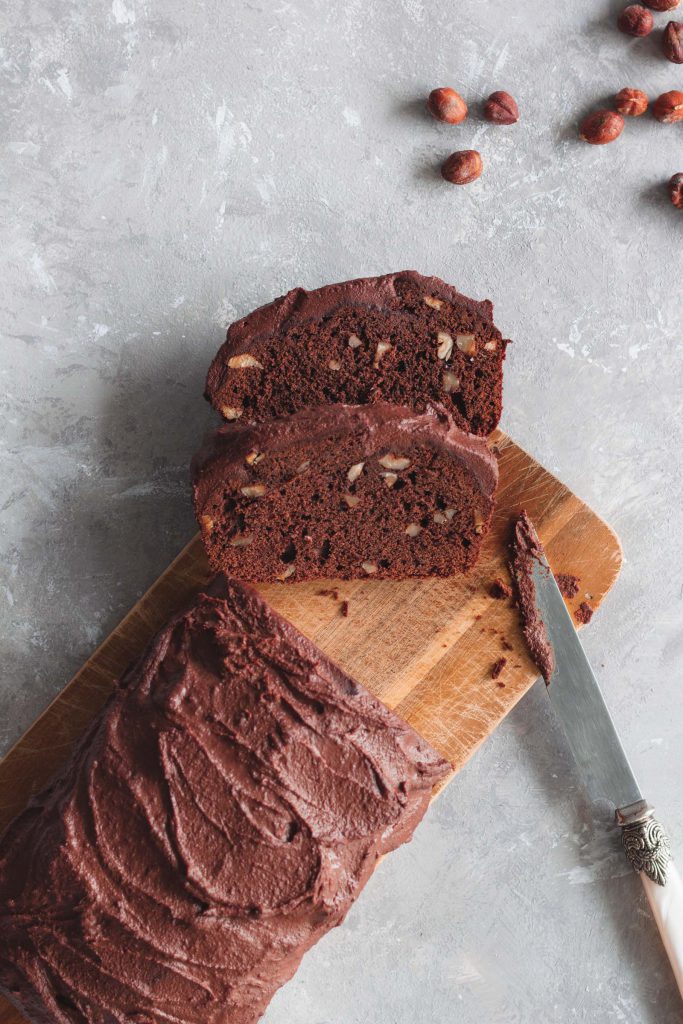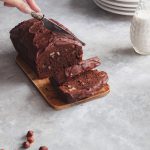 Print Recipe
Quick Chocolate and Hazelnut Cake
Ingredients
2

eggs

(large)

150

g

sugar

100

g

butter

100

ml

milk

180

g

all-purpose flour

30

g

cocoa

1 ½

tsp

baking powder

1

tsp

coffee extract

A pinch of salt

1

tsp

vanilla extract

50

g

hazelnuts

(chopped)

50

g

dark chocolate

(chopped)
For the Ganache
100

g

dark chocolate

120

ml

double cream
Instructions
Preheat the oven to 160°C (no fan).

Prepare a 20 cm x 10 cm (8 inch x 4 inch) cake tin. Brush the bottom and edges with margarine and line with baking paper.

Beat the eggs to a fluffy foam, gradually add the sugar, one spoon at a time, mixing each time for a few seconds. At the end add the melted butter, vanilla extract and milk.

In a smaller bowl weigh out the flour, cocoa, baking powder, a pinch of salt and coffee extract. Add to the eggs and gently combine the ingredients.

Add the chopped chocolate and nuts, combine.

Place at the middle rack of the preheated oven. Bake for 50 minutes, until the knife inserted into the dough is dry. Cool before topping with the ganache.
For the Ganache
Put chocolate broken into cubes into a medium-sized bowl. Boil the double cream over a slow fire until small bubbles start to appear and pour it over the chocolate. Set aside for 5 minutes. After this time, mix thoroughly until the ingredients are combined. Set aside for about an hour before pouring over the cake.

Decorate the cooled cake with chocolate ganache. Cut in slices and serve.
Did you make this recipe?
Tag @foods_by_marta on Instagram and hastag #foodsbymarta.