This recipe combines the two desserts that you can't go wrong with in any circumstances. White chocolate with a cheesecake. The final result is so mouthwatering that it'll be difficult to save a slice for the next day!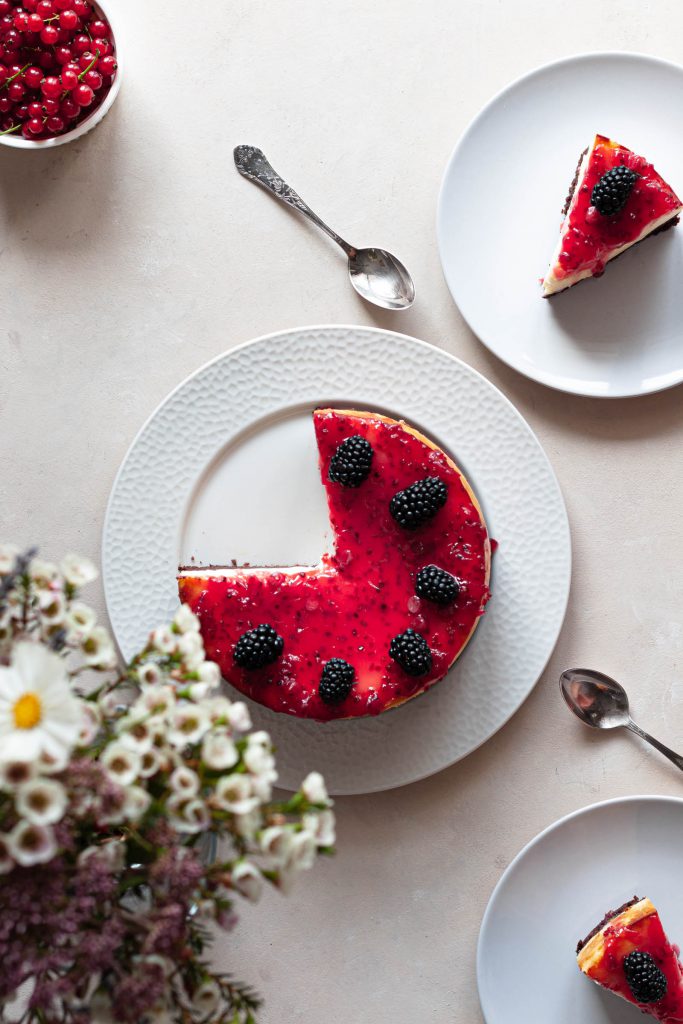 Tips and Tricks for White Chocolate Cheesecake
Making a breathtaking and delicious cheesecake is by all means an art achievable to everyone! It only requires a little bit of time and patience. The recipe that I am sharing today is a great example of a relatively easy cheesecake recipe. Here are some tried & tested tips for the best results!
Ingredients at room temperature – as you read through the ingredient list below, you will notice that the only chilled ingredient is butter. That's because we need it for the crust. All the other ingredients must be at room temperature which will help prevent from creating clutters of fat and make for a smooth cheesecake batter.
Melt white chocolate – adding a melted, smooth white chocolate will help incorporate it easily with other ingredients.
Baking and cooling the cheesecake – the cheesecake goes in to a pre-heated oven so that it can start baking throughout. You also shouldn't be opening the oven door when it's baking. At the mark of the total bake time, you should leave the cake in the oven and start gradually cooling it by opening the oven door gently. This will help set the cheesecake properly.
Be creative with your garnish! – the cake itself is gorgeous and mouthwatering! Although, because it's a cheesecake, it lacks color. That's why you can get really creative with how you decorate it. The cake's flavor is stunning and reach enough that you can use just fresh fruit to layer on top. If you do that, think sour fruit (blackberries, currants, passion fruit). Or you can add the simple raspberry syrup from the recipe that I'm sharing below – just because white chocolate and raspberries are an amazing combination and taste incredibly well, when served together!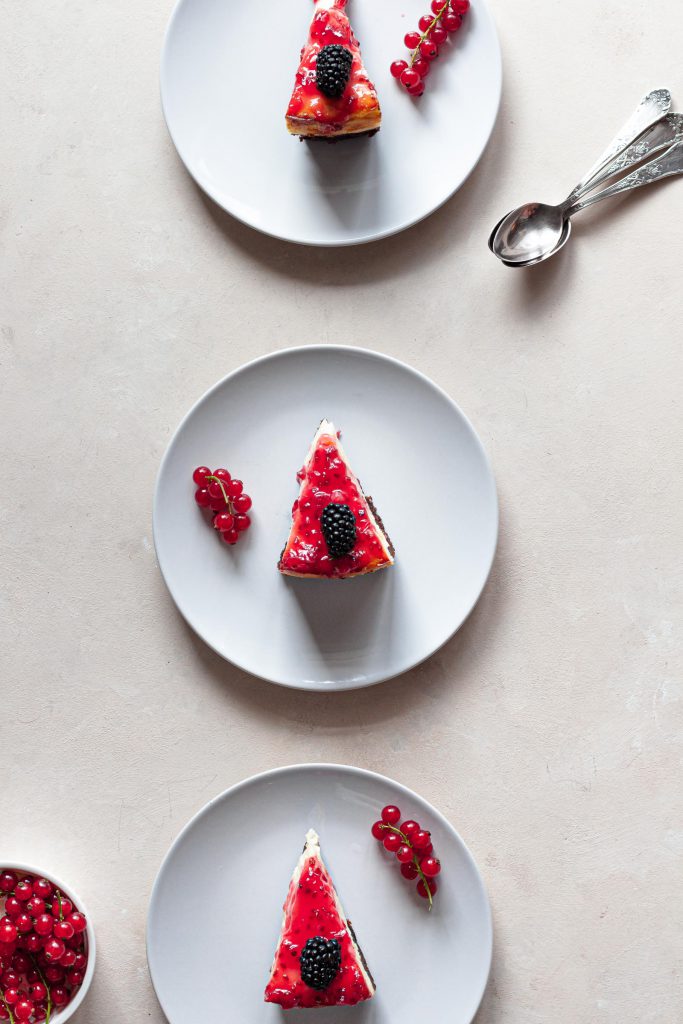 Ingredients in This Cheesecake
White chocolate – it's responsible for the rich flavor of this cake.
Cream cheese – use your favorite, tested cream cheese brand that you are sure is of a very good quality.
Mascarpone cheese – makes for a more gentle and less obvious flavor of the cake.
Sugar – don't be afraid to use granulated sugar. You're baking the cheesecake for a little over an hour so it has the perfect amount of time to melt completely!
Potato starch – this is the secret ingredient that will thicken the cheesecake batter. You can sub for corn starch but it might change your cheesecake color to more yellow-y.
Eggs & egg yolk – to help combine and bond everything together. Make sure they are at room temperature when you use them!
Vanilla extract – for obvious, flavoring reasons!
Heavy cream – rich in fat which is a carrier of flavor. You don't need to use much but it will add an incredibly rich and tangy flavor to your cheesecake!
Print Recipe
A Divine White Chocolate Cheesecake
This recipe combines the two desserts that you can't go wrong with in any circumstances. White chocolate with a cheesecake. The final result is so mouthwatering that it'll be difficult to save a slice for the next day! A white chocolate cheesecake that you should not miss out on.
Ingredients
For the Crust
160

g

all purpose flour

20

g

cocoa

3

g

baking powder

45

g

granulated sugar

100

g

unsalted butter

(chilled)

2

egg yolks

(large)

1

tsp

vanilla extract
For the Cheesecake
200

g

white chocolate

250

g

cream cheese

(e.g. philadelphia cheese)

250

g

mascarpone cheese

65

g

caster sugar

35

g

potato starch

2

eggs

(large)

1

egg yolk

(large)

1/2

tsp

vanilla extract

30

ml

heavy cream
For the Raspberry Syrup
150

g

fresh raspberries

(or frozen, unfreeze to prepare the syrup)

45

g

granulated sugar

2

tbsp

lemon juice
Instructions
For the Crust
Preheat the oven to 210°C (without fan). Line bottom of a 20cm Ø springform pan with parchment paper and grease the sides.

Sift flour, cocoa and baking powder to a medium sized bowl. Add sugar and combine. Cut butter into small cubes and add to the flour and sugar. Combine with flour and sugar just until a streusel starts to form. Beat in egg yolks and add vanilla extract. Combine together just until incorporated (do not mix for too long).

Press the crust dough into the prepared pan, pressing it firmly to create an even layer. Prickle all over with a fork and set to the fridge.
For the Cheesecake
Break chocolate into small pieces and place in a small pot, over low heat until it melts. Set aside.

Fit a stand mixer with the flat beater attachment. Place cream cheese, mascarpone, caster sugar and potato starch in a large bowl of the stand mixer. Mix on a low speed for approx. 1 minute. Start adding eggs, one at a time mixing on low speed for 30 seconds. Then add egg yolk, vanilla extract and heavy cream. At the end, add the melted chocolate mixing on low speed for 20 seconds and increase to medium speed for 10 more seconds.

Pour the cheesecake batter over the crust dough. Strike the springform pan over the kitchen counter a few times to remove any air bubbles.

Carefully place the springform pan to a middle rack of the oven and bake for 10 minutes. Then, without opening the oven, decrease the heat to 100°C and bake for 55 minutes. After this time the cheesecake should set but will still be wobbly in the middle (this will set while it's cooling).

At the end of the baking time do not take the cheesecake out of the oven. Turn the oven off, leave the cheesecake in and open the oven door slightly open. Allow the cheesecake to cool down gradually. After 45 minutes open the oven door fully and leave for 30 more minutes. Then, take out of the oven and leave on the kitchen counter until it cools down completely. Once it's cooled down, cover with aluminium foil and place in the fridge overnight. This will allow the cheesecake to set completely.
For the Raspberry Syrup
Place all ingredients in a small pan, over low heat. Heat everything up for 15 minutes, mixing well the entire time. Cool down.

Take the cheesecake out of the springform pan, top with the raspberry syrup and garnish with your favorite fresh fruit. Slice into 16 servings and enjoy!
Did you make this recipe?
Tag @foods_by_marta on Instagram and hastag #foodsbymarta.